Choosing the appropriate electrical enclosures to suit your industrial or commercial application doesn't have to be complicated. There are a considerable number of enclosures and junction boxes to choose from, but not all of them will be the best solution for your operational needs. We break down the top 5 specifications to consider when shopping for electrical enclosures, wireways, and troughs.
Environment
First, consider where the enclosure is going to be installed. The environment is critical for deciding between the available options. Will there be moisture? Direct spray downs? Harsh chemicals or exposure to weather? For example, an electrical enclosure installed inside an industrial plant would likely be exposed to hazardous chemicals. In contrast, an enclosure installed outdoors would need to withstand fluctuations in temperature, humidity, and UV exposure.
NEMA Rating
The National Electrical Manufacturer's Association (NEMA) is a forum for developing technical standards created to consider the best interests of both the industry and the end-users. A NEMA rating gives information regarding the durability and usability of electrical enclosures. Your operations must follow the appropriate standards and ensure the enclosure meets the ratings specified. The NEMA ratings and other classifications can be found within the product details or accompanying specification documentation.
The most common NEMA ratings for electrical enclosures are:
NEMA 1: indoor use only, protects against falling dirt and light dripping water.

NEMA 3: indoor/outdoor use, protects against rain, sleet, and wind-blown dust.

NEMA 4: indoor/outdoor use, protects against rain, sleet, wind-blown dust, splashing water, and hose-directed water.

NEMA 4X: indoor/outdoor use, protects against rain, sleet, wind-blown dust, splashing water, hose-directed water, and corrosive environments.
Modifications
An enclosure that can be modified and fabricated to meet the needs of your operations should always be your first choice. When a standard enclosure isn't precisely what you need, modification services transform the original design into your ideal enclosure solution. These custom services are available at your request. Ask our expert representatives for Hammond's modification services when considering enclosure options.
Enclosure Size, Ventilation & Climate Control
Another critical factor is identifying the size of the components that the enclosure must conceal. Draft a rough sketch to start and request the available dimensions of the enclosure you are considering. Hammond offers an extensive climate control package. An enclosure often houses heat-generating equipment. Left alone, heat build up can negatively affect an electrical/electronic system's overall performance and perhaps cause failure. Also, some enclosures are exposed to extreme ambient temperatures, both cold and hot, which need climate control.
Material
Now it's time to identify the ideal material for your enclosure. Some of the available materials include:
Mild Steel

Stainless Steel

Polyester

Aluminum

Non-Metallic
Mild steel

Enclosures fabricated from mild steel are acceptable for many indoor and outdoor environments. However, they typically will not receive a corrosion resistance rating and would not be appropriate for all industrial settings.
Stainless steel
Stainless steel offers an impressive number of benefits. These include:
Corrosion resistance: the chemical composition makes stainless steel ideal for harsh industrial environments
Easy-to-clean: suitable in food service or hospitals where sanitization and regular cleaning occurs
Strength-to-weight ratio: a lightweight and durable choice
Aesthetic: sleek, attractive appearance that won't fade over time.
Modifications: can be easily modified and fabricated to suit your needs
Sustainability: 100% recyclable
Temperature tolerance - withstands up to 1700 Celsius
Stainless steel is NOT recommended for environments where salt spray is present because this will cause pitting and deterioration of the enclosure.
Polyester
Polyester (PBT) offers a wide range of benefits at a reasonable cost. This lightweight, high-performing plastic delivers high impact resistance, exceptional electrical properties, and superior chemical and moisture resistance. Polyester withstands numerous indoor and outdoor applications, but direct UV exposure can cause a slight yellowing of the material. This material has been trusted for many harsh and heavy industrial applications.
Polyester Wallmount Enclosure PHW Series by Hammond Manufacturing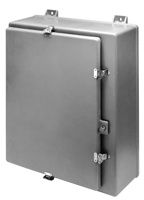 Aluminum
As a durable and corrosion resistant alternative, Aluminum is applicable to many industrial uses. By design, cold rolled aluminum is a strong and temperature tolerant material, ideal for several harsh conditions, either indoors or outdoors. Aluminum is NOT recommended for applications that involve temperature sensitive electronics.
Non-Metallic
These materials include Polycarbonate, ABS, and Polyester (mentioned above).
Need an enclosure outdoors? Opt for Polycarbonate. It is a superior choice to withstands harsh weather conditions. For indoor use, ABS is a lightweight and affordable option. Plastic also offers a level of protection to the user when electrical shortages may be a concern, because it is non-conductive.
Summary
Buying electrical enclosures should meet the needs of the operational environment. Review these top 5 considerations to help you decide between Electrical Enclosures on the market. Overall, select the electrical enclosure that suits the environment in which you are planning to install it, meets NEMA standards, allows for custom modifications, is available in the dimensions necessary, and constructed from the highest-quality material that's built to last.
At Electrozad, we offer a wide selection of electrical enclosures to meet the needs of any project. Whether you need a junction box for a small residential project, or an industrial enclosure for a heavy-duty industrial application, we have the right solution for you. Our team of experts can help you find the right electrical enclosure to meet your specific requirements and ensure the safety and protection of your equipment and systems. We strive to be your top-performing solutions partner in the electrical and automation industry.
If you are still unsure which electrical enclosure is best for your application, request a quote from Electrozad today. Our experts are here to help.