Congratulations to Andrew McLaren, this year's recipient of the 2022 Bryan Smith Memorial Scholarship, in partnership with the Electro-Federation Canada Scholarships.
Andrew is a second-year student at McMaster University, in Hamilton, ON. He is studying Computer Science and Software Engineering. John Jenner CFO and COO, along with Erin Penney HR Associate of Electrozad presented this scholarship to Andrew on Monday, November 21, 2022.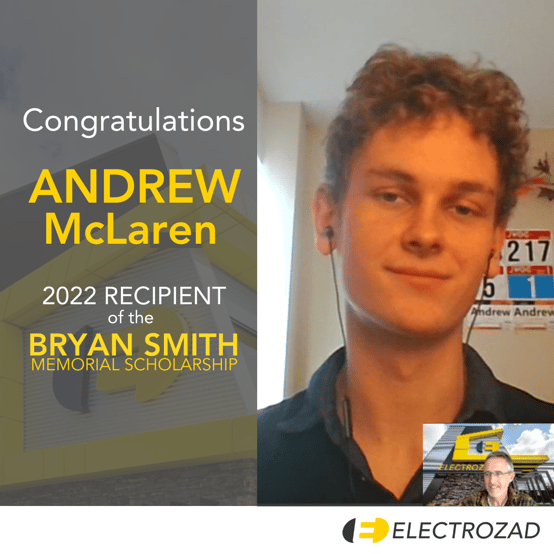 Andrew's submission stood out with his insightful response as to why he is pursuing a career in electrical studies. "With the ever-expanding horizons of what is possible with technology, our world is increasingly reliant on software to regulate everyday tasks. This leaves us vulnerable to cyberattacks targeted at software. As I advance my skillset, I will help devise solutions to remedy existing vulnerabilities."
The Electrozad Bryan Smith Memorial Scholarship Award, is granted to a college or university student who has completed at least one year of study in the electrical, engineering, IT or business disciplines. This scholarship was established in memory of Bryan Smith, Electrozad's first sales representative, past President, CEO and Chairman of the Board.
Andrew demonstrates leadership potential through his community service as a Scout Leader and volunteering as an Orienteering Coach and running orientation events.
The electrical industry is "Powering a changing world" and Andrew's goals are very much in line with this mission. "I will work toward creating solutions for many problems that face the disadvantaged and strive to make the world a more equitable place through software."
The Electro-Federation Canada Scholarship program provides university and college students, who are interested in pursuing a career in the electrical industry, with funding to support their academics.
These scholarships are awarded yearly and are based on specific criteria. Watch for next year's applications to open in 2023.
For more information on the scholarship program, please visit:
https://www.electrofed.com/about/efc-scholarship-program/#Electrozad